If you suffer from the chronic pain of fibromyalgia, you're not alone – With more than 100,000 diagnosed cases in the Los Angeles area alone, fibromyalgia pain has become a widespread ailment. But that doesn't mean you have to live in chronic pain anymore. Several treatment options are available, including chiropractic care, that can offer immediate relief from the debilitating symptoms of fibromyalgia and allow you to live life without pain.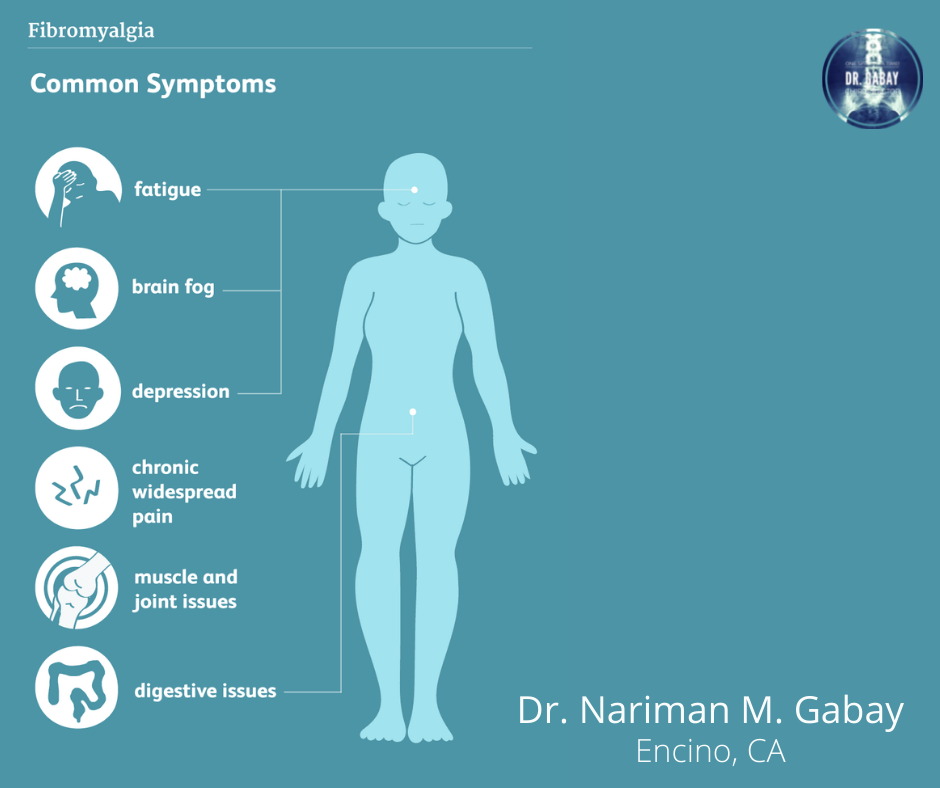 Get Relief from Fibromyalgia Pain with a Specialist Chiropractor near Encino
At Chiropractor Encino: Dr. Nariman M. Gabay Dynamic Med located (Fibromyalgia chiropractor), we understand how debilitating fibromyalgia can be and will do our best to help you get back to living life pain-free. Our patient's treatment plan for fibromyalgia covers all aspects of the disease, as well as the various other conditions which it often accompanies, in order to provide patients with the best chance at leading an improved lifestyle.
How Do I Know if I Have Fibromyalgia?
It's not always easy to spot, but it's essential to be aware of symptoms and get tested if you suspect you have fibromyalgia. Your pain can come in waves or flare-ups, and there may be extra tenderness when you press on certain spots around your body. Some people only experience pain in their joints, while others feel severe muscle pain all over their bodies.
What Causes Fibromyalgia?
Many people with fibromyalgia pain have an auto-immune disorder, which means that their immune system attacks their own body. Auto-immune diseases are caused by your body's immune system incorrectly identifying your healthy tissue as dangerous invaders, attacking and damaging your tissue.
Common fibromyalgia symptoms include:
Physical trauma
Emotional stress
Poor sleep
Viral infection
Chronic back & neck pain (Stiff Neck)
Fatigue
Headaches $ Migraine
Depression and Stress
Anxiety
Hypothyroidism
Lyme disease
How Is Fibromyalgia Diagnosed?
Doctors usually diagnose fibromyalgia using the patient's history, physical examination, X-rays, and blood work. If you have many of these symptoms, you may have fibromyalgia. Your doctor will also want to know about your medical history and will perform a physical exam. There is no specific test for fibromyalgia, and doctors can often only diagnose it after ruling out other conditions causing your symptoms.
How Can I Find Relief from My Symptoms?
If you live in or around Encino, CA, there's no need to suffer another day in pain. Dr. Gabay is board certified and has been practicing for more than 20 years, so he has a thorough understanding of musculoskeletal issues like fibromyalgia. He's treated many patients suffering from these conditions and built a treatment plan that works well for patients in most cases. He treats your whole body rather than just one part, which helps alleviate some of your symptoms and make sure you don't get them again down the road.
How Much Does Treatment Cost?
Chiropractic treatments for patients living with fibromyalgia is less expensive than other medical treatments and trigger point therapy. If you don't have coverage, ask about affordable payment plans to start feeling better as soon as possible. Also, keep in mind that some doctors offer free initial consultations; inquire about them when making an appointment.
How Can I Find a Local Chiropractor in Encino?
Finding a local chiropractor in Encino, CA who offers fibromyalgia treatments may take some research. Start by asking friends and family members for recommendations. Then visit local business directories such as Yelp or search google for "fibromyalgia chiropractor near me." or "fibro chiropractor near Encino CA".
What Questions Should I Ask Before Choosing A Local Chiropractic Care near Encino?
You can ask your chiropractor many questions before beginning treatment at their clinic. Please find out how many patients they've seen that suffer from fibromyalgia, for starters. You want to be sure that your chiro has experience working with patients who have fibromyalgia and other chronic pain conditions like neck pain. Ask if they use a specific treatment program for fibromyalgia pain or if they prescribe medication as part of their treatment plan.
Standard Tests Performed by Local Spine Care Chirropractors in Encino, Los Angeles Area
If you think you may have fibromyalgia, it's essential to visit your chiropractor as soon as possible; they can evaluate your situation and make recommendations based on your individual needs.
Millions of people across the country are in pain everyday. The good news is that there's a number of treatments available to provide significant relief for you and your chronic illness! Come visit us at our Encino clinic where we can help find solutions tailored just right for what's causing it so much discomfort– back or neck pain, migraine headaches…you name it!.
Schedule an appointment today!
Ref:
Fibromyalgia | Arthritis | CDC